It's been a while since I did a The Champagnist tasting with my team. There have been problems with transportion, my health and I've been distracted by practicing the piano and by love ...
Fortunately, we were invited for a fabulous tasting at Octopus Sparkling Wine. Owner Koen Hebbrecht has made a very impressive selection of champagnes. He's a passionate perfectionist seeking only the very best which you can find in many Belgian top restaurants including various Michelin restaurants of course.


The tasting:
Glassware used: Zalto white wines and Riedel Veritas Champagne
𝐃𝐫𝐚𝐩𝐩𝐢𝐞𝐫 is one of the big brands located in the Côte des Bar, in the south of the Champagne region. They have a distribution all over the world. You'll find these wines in restaurants, brasseries as well as in supermarkets. I've been a fan since the start of my champagne obsession in 2010. Michel Drappier knighted me in the order Coteaux de Champagne.

They make classic champagnes, crowdpleasers - like the famous Carte d'Or - as well as complex wines like the very meritorious Brut Nature and the Sans Soufre (no added sulphites). My absolute favorite is the completely underrated Millésime d'Exception and the Grande Sendrée from good vintages, especially the older ones. The brand new 𝐂𝐥𝐚𝐫𝐞𝐯𝐚𝐥𝐥𝐢𝐬 𝐢𝐬 𝐃𝐫𝐚𝐩𝐩𝐢𝐞𝐫'𝐬 𝐟𝐢𝐫𝐬𝐭 𝐁𝐈𝐎 (ecocert) wine. It's named after the annex of the Cistercian Abbey of Clairvaux. Its label is inspired by the Great Bible of Clairvaux and has been designed by the lovely Charline Drappier.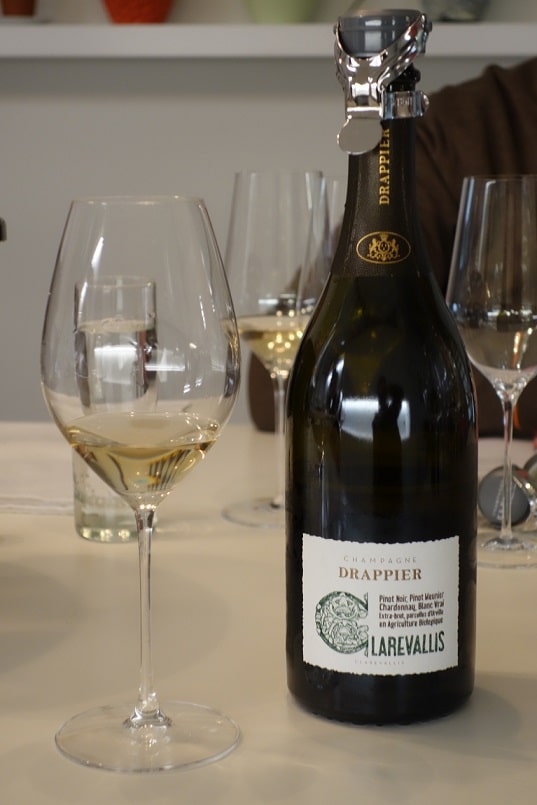 So how about the wine? Its pale color gives away that this a young wine. The bubbles are elegant with a nice mousse. The aroma opens up with a yeasty character reminding me of the Tarlant Brut Réserve. This is soon followed by ripe cox apples, apricot, almond powder, juicy Doyenné pears, mirabel plums, elderflower and a hint of dried sage. After having been in the glass for a long time, you get sage syrup, very ripe apples, freshly picked violets and a more pronounced chalky and slightly smokey scent. The mouthfeel is soft, rounded, segues into freshness and nice dynamics. It reflects exactly what the nose suggests. There is a lot of ripe orchard fruits, almond, maybe a hint of red fruits and apricots. On the mid palate, there is hint of pure cane sugar with a pleasant touch of gingerbread and apricot stone. Unfortunately, the finish is rather short with a mild acidity of apricot and a whiff of speculoos spices. It doesn't have a typical BIO-wine character and the energy and dynamics to expect from it. This is a well-made champagne. It's a good apertif. Though it lacks complexity and fun, I certainly prefer it to the Carte d'Or NV.
𝟕𝟔 𝐩𝐨𝐢𝐧𝐭𝐬

Technical specs:
Blend: 75% Pinot Noir, 10% Pinot Meunier, 10% Chardonnay, 5% Pinot Blanc
Harvest: 2017
Disgorgement: May 2019
Dosage: 4 g/l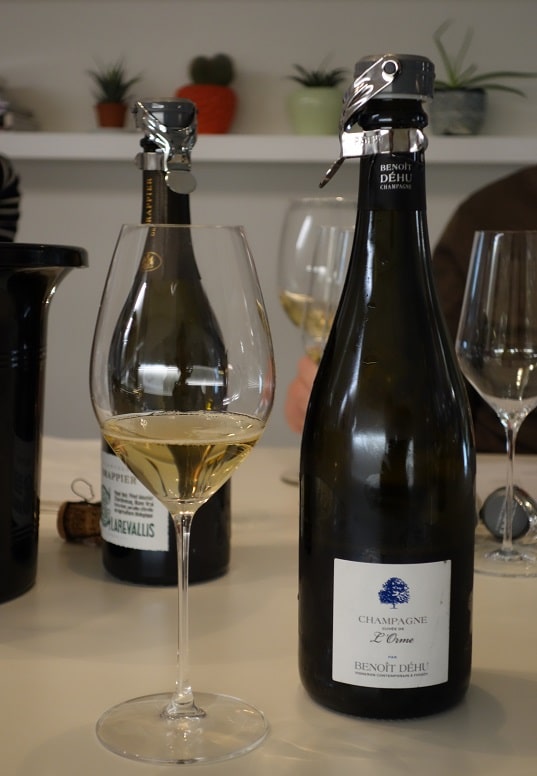 Aah Benoît Déhu is one of the great superstars of Champagne. Benoît is the 8th generation of champagne Déhu in Fossoy, at the border of the AOP Champagne. The Déhu Père & Fils wines are boring and uninspired, but the wines of Bénoît are freakingly fabulous. He experiments with rootstocks, is a perfectionist in the vineyard and works according to biodynamic principles. The wines are Brut Nature (no dosage). His barrels and foudres (large quantity barrels) are made by the artisan Jérome Viard. Benoît totally customizes them to create his own signature style.
His Rue des Noyers champagnes and still Coteaux Champenois wines are to die for! They're all made of the noble grape Pinot Meunier to which I dedicated a full article/entry that you can read on champagnist.com. If you can still find a vintage 2011, then you are very lucky and I'll be extremely jealous. Unfortunately, the prices went sky high. I'll dedicate a full article on this champagne genius soon on The Champagnist.

I had tasted 𝐜𝐮𝐯𝐞́𝐞 𝐝𝐞 𝐥'𝐎𝐫𝐦𝐞 𝐰𝐡𝐢𝐜𝐡 𝐢𝐬 𝐦𝐚𝐝𝐞 𝐨𝐟 𝐏𝐢𝐧𝐨𝐭 𝐍𝐨𝐢𝐫 last year on the Origines Champagne during Printemps de Champagne - a week of champagne tastings for wine professionals. There it was tight, spicy, way too young, yet already it got me excited. Therefore, I cherished high expectations for the tasting with my team.

The color of the wine is a nice yellow golden. The copper hue gives away that it is Pinot Noir. Perfection is all I can say about the bubbles. Tiny and elegant in both glasses we used. The nose invites with Reinette apples, zesty kumquats, chamomile and white needle tea. It evolves to redcurrant, quince jam and delicious plum pie. This is accompanied with lovely floral tones of linden blossoms and roses. There are some (for me typical biodynamical) undertones of essential oils of valerian, lemon verbena and even a hint of tea tree, luckily without being disturbing. What may put people off – but I like it here – is the hint of lambic/geuze that gives the wine a touch of brett animality, a more "rural" scent. After a longer while in the glass, the scent of new leather emerges. The attack on the mouth feel is rather light for a Pinot Noir, but it evolves to a more dense and fuller texture. The flavor is complex - like the nose suggests - with a salty Moroccan lemon confit, white and red redcurrants, yuzu, a hint of a medicinal undertone (call it aspirin). The florality of the nose is confirmed on the palate. The finish is sufficiently long with a mild spicy touch of wood, Mezcal smokiness, yuzu and again that animal touch. I expected this disgorgement to be richer, but it is still as tight as when I tasted it the first time. A classic pairing would be tataki of tuna with sesame, ponzu and fried rice with shii-take. This cuvée de l'Orme is of course a great wine. Nevertheless, it doesn't match the quality of his Meunier Rue des Noyers wines (for me not even his "lower-end" wine: Initiation). I do believe that this champagne has a lot of potential. When not consumed immediately, this wine will evolve wonderfully with time. I see a bright future ahead.
𝟖𝟕 𝐩𝐨𝐢𝐧𝐭𝐬 𝐰𝐢𝐭𝐡 𝟗𝟐 𝐩𝐨𝐭𝐞𝐧𝐭𝐢𝐚𝐥

Technical:
Blend: 100% Pinot Noir
Harvest: 2015
Disgorgement: 09/04/2019
Dosage: none
𝐂𝐡𝐚𝐫𝐥𝐞𝐬 𝐃𝐮𝐟𝐨𝐮𝐫 is an eccentric wine grower who makes extraordinary wines. He is an aesthetic, highly original wine artist. This is reflected in the design of his wine labels. His vineyards are in Landreville, a small commune in the Côte des Bars. He became famous because his wines were served in NOMA, which used to be one of the best restaurants in the world. He has, or maybe I should say 'had', a wide range of wines including several single parcel wines. Nowadays he moved forward and shifting his attention to four wines: Bistrotage is a wild wine with explosive flavors, vinosity and depth. Bulles de Comptoir, on the other hand, is mostly more playful and more suitable as an aperitif. Bistrotage, to me, is his best. The B10 is such an explosion of flavors. Rich, mature, masculine (yes, I know, I shouldn't use that word nowadays) and very complex. In a nutshell, it's just the way I like it.

𝐁𝐮𝐥𝐥𝐞𝐬 𝐝𝐞 𝐂𝐨𝐦𝐩𝐭𝐨𝐢𝐫 is completely different. It is fresher, more energizing and hence more suitable as an aperitif. He now made #8 of them. My favorite is the #5 C'est Joli! It is a party in your mouth. And, of course, the wine gets even better in Magnum. In general, I'm not a huge fan of his rosé wines. They are mostly too rough, not quite balanced or even not sufficiently champagne-like.

Now about the #𝟖: 𝐒𝐭𝐢𝐥𝐥𝐥𝐞𝐛𝐞𝐧. The color is impressive, a nice intense golden color. The effervescence is refined, modest and the wine has nice tears on the glass. The nose is seductive and opens with tropical fruit like pineapple and starfruit, followed by hawthorn, wild strawberries, raspberry, and licorice allsorts. You also smell the sea, oyster shells, the typical Kimmeridgien Chablis-like chalky mineral character and darker tones of single malt, andives with a savoury touch of sweet potato chips. The mouth feel is great. Aah, this is indeed a full-bodied wine. You'll find structure, depth and some unctuousness. The #8 Stillleben is once again a fabulous Bulles de Comptoir in quite a different style than the previous versions. This wine is not playful, frivolous. What we get here is the embodiment of a classy businessman reading James Joyce. Strict, maybe a bit austere and a little tight. Yet … this wine was just disgorged four weeks ago. It needs time to calm down to show its full potential. On the palate, you get different fruits like apple, melon with citrus zest overtones, pecan nuts, a hint of popcorn and rice crispies (typically Dufour) and a nice bitter touch of the endives and mild spices like nutmeg. All is reverberating in a nice long finish. A nice food pairing was suggested by my friend (and tasting partner in crime) Jan Bouquet: grilled sepia accompanied by foie gras and beluga lentils. It was hard to keep focus on the analysis of this wine because the wine keeps on seducing so there is way more to tell about it. That explains the rating between brackets. I would love to taste this one after about six months, but I'm afraid it will be sold out by then. If you want to learn more about Charles Dufour, you can read a full article on Charles Dufour on champagnist.com
(𝟗𝟎) 𝐩𝐨𝐢𝐧𝐭𝐬

Technical info:
Blend: Pinot Noir, Chardonnay, Pinot Blanc in secret quantities
Harvest: 2017 (85%) + perpetual reserve wines 2010 - 2016 (15%)
Disgorgement: January 2020
Dosage: less than 3 g/l
𝐁𝐮𝐥𝐥𝐞𝐬 𝐝𝐞 𝐂𝐨𝐦𝐩𝐭𝐨𝐢𝐫 "𝐟𝐚𝐜𝐞 𝐛 - 𝐣𝐨𝐥𝐢 𝐜𝐨𝐢𝐧"… what the f#ck is this? The color is like grenadine with shades of amber, the effervescence is refined and there is a lovely mousse, but the aromas … Weirdly enough, this doesn't smell like champagne at all. It reminds me of a Moulin-a-Vent, Beaujolais mixed with a light Languedoc, with typical Garrigue tones. I smell cherry, licorice, fig de barbarie, cinnamon, raspberries and a floral undertone of lilac. The mouthfeel is vinous, actually not too dry and has a surprisingly nice. Indeed there are noticeable tanines. On the palate, we re-encounter the cherries and raspberries. On the mid palate, there is a bitter touch of Earl Grey tea, rosehip and even some Parker pen ink. The finish, however, is quite pleasant yet not too long. This wine is peculiar, full of character, but not a champagne. Nevertheless, I did like it. Not everyone agreed, but to me this would be a nice BBQ wine.
𝟔𝟖 𝐩𝐨𝐢𝐧𝐭𝐬

Technical info:
Blend: 100% Pinot Noir
Harvest: 2017
Disgorgement: January 2017
Dosage: less than 3g/l

And now time for cheese with champagne!